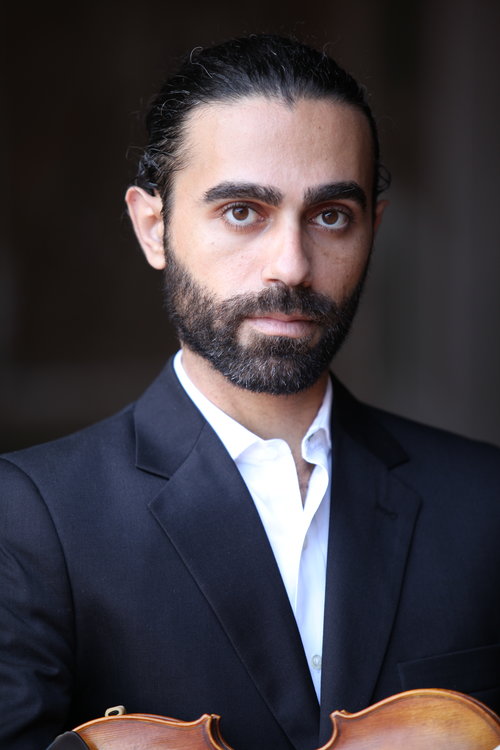 A native of Syria, Dr. Samer Ali is a physician, Arab-violinist, musical director of Takht al-Nagham and founder and president of the Syrian Music Preservation Initiative.
Samer led Takht al-Nagham in New York City at Alwan for the Arts, Scandinavia House, and Roulette Intermedium; and featured Syria's celebrated soprano Lubana al-Quntar at the Kennedy Center in Washington D.C. He currently performs with the National Arab Orchestra and the New York Arabic Orchestra. He began studying western classical violin at the age of eight with Fawaz al-Ali, and later pursued intensive conservatory studies with Ali Mukhtar Babayev. He studied the Arab violin and classical music traditions with Ali Farran and Ziad Ajjan (both students of prolific scholar Mahmoud Ajjan), composer Khaleel Haj Hussein, violinist and oudist Simon Shaheen, violinist Anwar Hariri, and scholar and oudist Muhammad Qadri Dalal.
Samer co-founded the Damascus-based Awj Arab music ensemble (2007-2011), and performed with the Ugarit Ensemble (1996-2006), and the Orchestra of the Bronx in New York City. In the year 2010 Samer was featured by Moncef Genoud at the Damascus Opera House. He has collaborated with musicians in the United States and Syria, such as Ramez Khaskiyya, Bassam Saba, and Michel Merhej Baklouk.
Samer plays a 1957 Oud by Mahmoud Safi of Damascus, Syria.
In medicine, Samer received his M.D. from Tishreen University in Latakia, Syria and, later, completed medical residency in Anatomic and Clinical Pathology at Mount Sinai Hospital. Currently, he is a surgical pathology fellow at Lenox Hill Hospital in Manhattan, New York.